We are in network with CareCredit, click below to apply today!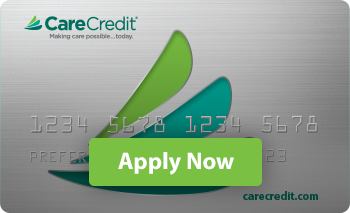 What Is CareCredit?
CareCredit is a health, wellness and personal care credit card that patients and clients can use to finance the care they want and need without delaying appointments or treatment.* Plus, CareCredit can be used again and again for family and pets at over 200,000 Provider and select retail locations.
The Benefits of Healthcare Financing
The CareCredit credit card gives Cardholders*:
A convenient way to pay for deductibles, unexpected expenses, copays and coinsurance, as well as costs not covered by insurance
Promotional financing options with simple monthly payments
The possibility to move forward with recommended care today
A way to fit payments into their monthly budget
How Does CareCredit Work?
Patients or clients quickly apply in your office, over the phone or on their smart device*** —and get an instant credit decision.
Once approved, they can immediately use the CareCredit credit card to pay for deductibles, copays and coinsurance, as well as costs not covered by insurance.
Cardholders can take advantage of promotional financing on purchases of $200 or more.*
Your office gets paid within two business days, with no responsibility if the Cardholder delays or defaults.**
Cardholders can use their CareCredit credit card to pay for repeat visits or treatments without reapplying, so they're always prepared with a way to pay.*